April 27, 2021, RoboSense (https://robosense.ai/), a smart and automotive LiDAR system provider, was named as one of the finalists for the 2021 Automotive News PACETM(Awards for its smart, mass-production-ready and automotive-grade solid-state LiDAR RS-LiDAR-M1. RoboSense is the first China LiDAR company to be ed as one of the 27 shortlisted suppliers from over 200 global automotive suppliers for its technical innovations and commercialization capability for autonomous vehicles. Last year, 13 top suppliers including Continental, Delphi, Magna, Mobileye, and Valeo won PACE TM Awards 2020.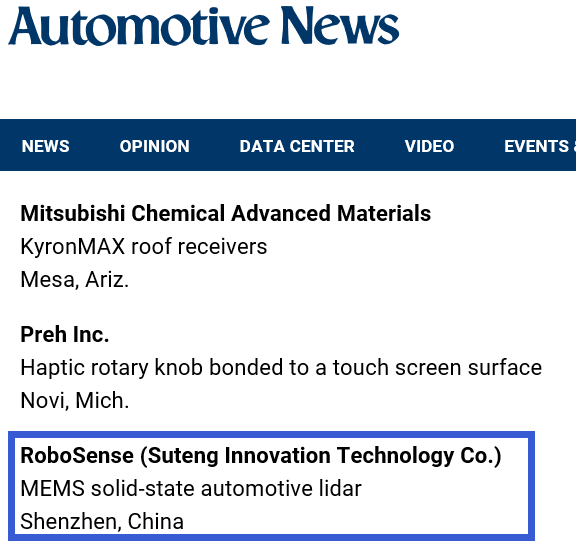 The PACETM Awards presented by Automotive News and the Automotive Parts Manufacturers' Association (APMA) and now in its 27th year, is given to automotive suppliers in recognition of technological innovation in product or processes that has reached commercial application. Judged by an independent panel of technologists, the PACETM Awards are recognized around the world as the industry benchmark for innovation. The awards which included an extensive review by an independent panel of industry expert judges, are to be presented on Sept. 30 at a ceremony in Detroit.

"This year's class of PACE finalists showcases the rich innovation underway worldwide in the business of moving people and things," said Steve Schmith, director of Automotive News PACE judging. "The finalists represent companies operating throughout the automotive value chain who are not only driving game-changing approaches to product development, but also reimagining the customer experience and creating new ways of generating revenue."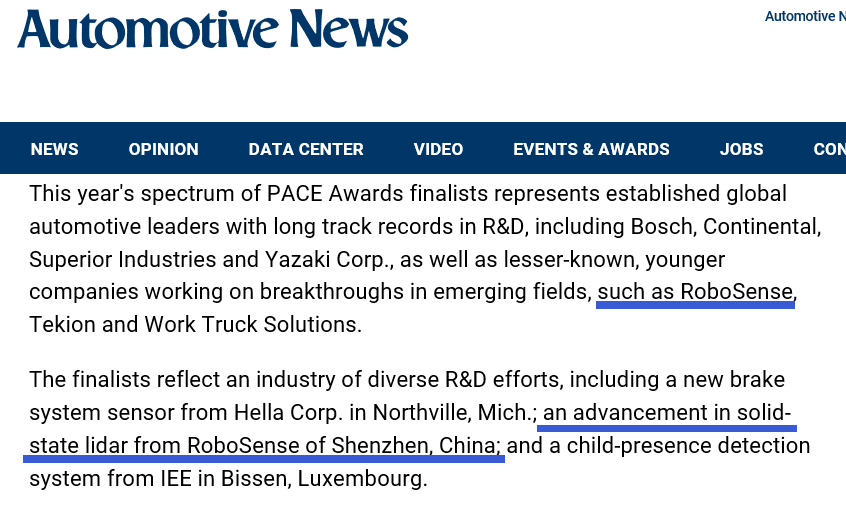 The commercialization of technological innovation is the key point to form the authority of the PACE Awards. It aims to commend automotive products that bring innovation to the market, which means the product must have benchmark cooperation projects with OEMs in pushing the commercialization. Based on innovative and mature MEMS solid-state LiDAR technology, the RS-LiDAR-M1 meets all requirements of the industry for automotive-grade LiDAR including performance, stability and reliability, intelligence, size, manufacturing capability, and cost, to accelerate the commercialization of autonomous vehicles and ensure the safety of autonomous driving.

Since July last year, the RS-LiDAR-M1 has successively received a number of orders for mass-production vehicle models around the world, among which, the first customer was an OEM from North America. In December last year, the RS-LiDAR-M1 samples were shipped to this OEM customer in batches, and became the world's first mass-production-ready automotive-grade MEMS solid-state LiDAR delivered. Moreover, RoboSense has built the China's first automotive-grade solid-state LiDAR production line and would start mass production and delivery of the automotive-grade solid-state LiDAR RS-LiDAR-M1 for contract projects in Q2 this year.

"We are honored to be shortlisted in the final group of the prestigious 2021 Automotive News PACETM Awards. It shows the recognition of our smart solid-state MEMS LiDAR M1's superior innovation, technological advancement, and business maturity for commercial L3+ autonomous vehicles," said Mark Qiu, RoboSense Executive President and Co-Founder, "We will continuously improve LiDAR performance and lower the cost for commercial autonomous vehicles."




About RoboSense
Founded in 2014, RoboSense is the leading provider of Smart LiDAR Sensor Systems incorporating LiDAR sensors, AI algorithms and IC chipsets, that transform conventional 3D LiDAR sensors to full data analysis and comprehension systems. The company's mission is to possess outstanding hardware and artificial intelligence capabilities to provide smart solutions that enable robots (including vehicles) to have perception capability more superior to humans. https://www.robosense.ai/




About Automotive News
Automotive News is a weekly print newspaper written for the automotive industry, primarily individuals associated with automobile manufacturers and automotive suppliers. Based in Detroit and owned by Crain Communications Inc, Automotive News is considered the newspaper of record for the automotive industry. https://www.autonews.com/