LiDAR innovations are presented overseas, and large-scale production and applications are promoted continuously.
The International Consumer Electronics Show 2023 (CES 2023) kicked off in recent days in Las Vegas, Nevada. As a world-leading provider of Smart LiDAR Sensor Systems, RoboSense presented its solid-state blind spot LiDAR, RS-LiDAR-E1 (E1 for short) and the second generation Smart solid-state LiDAR, RS-LiDAR-M series (M series for short) at the event, which made their overseas debut; At the same event, a number of leading R-Platform mechanical LiDARs and the ADAS/AD ground truth and evaluation system RS-Reference were also featured, fully demonstrating the strength of the brand.
Watch the Video:Visiting CES 2023 with RoboSense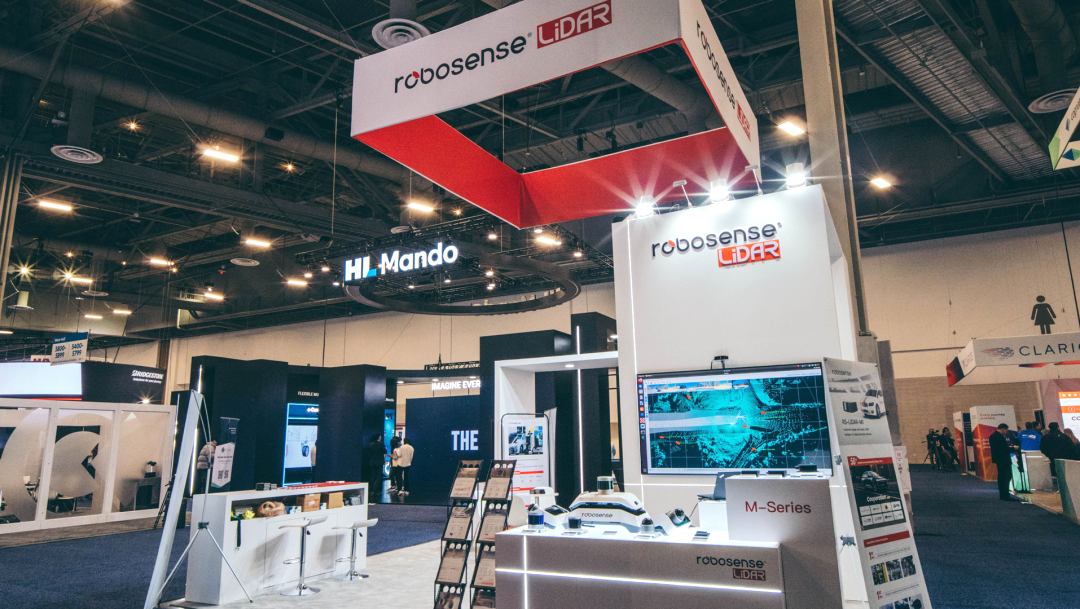 △ CES 2023 RoboSense Booth
From M Series to E1 - Automotive-Grade LiDAR Product Innovation Capability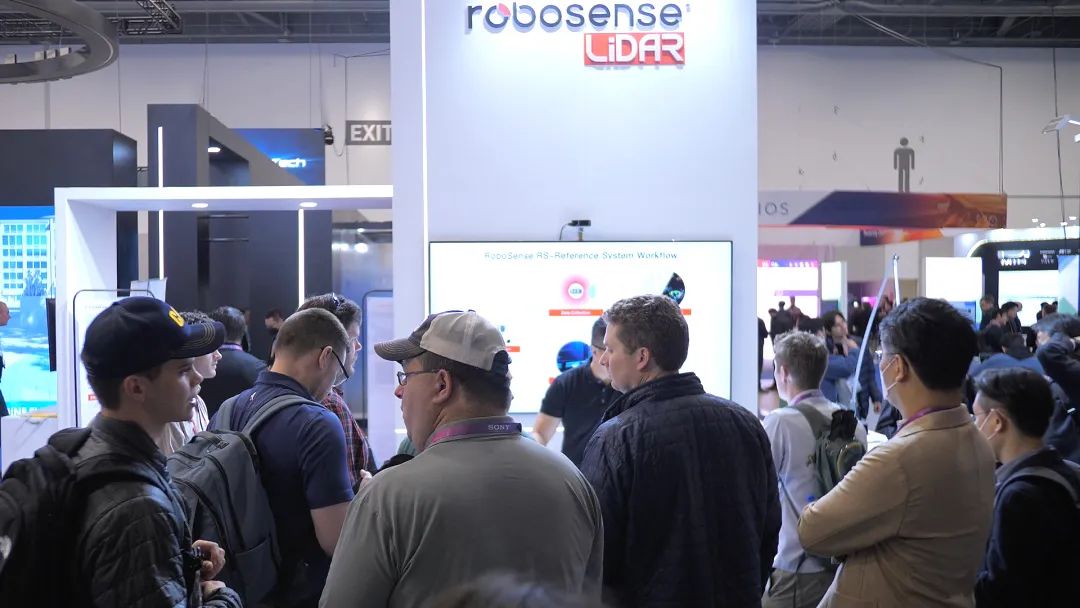 △ Traffic at the Booth
At CES, E1 made its debut before the overseas audiences and attracted the most visitors among all RoboSense LiDAR products exhibited.the overseas audiences and attracted the most visitors among all RoboSense LiDAR products exhibited.
E1 is another revolutionary product that RoboSense has launched after RS-LiDAR-M1 (M1 for short). As the "last piece of the puzzle" of automotive-grade solid-state LiDAR perception, E1 has no internal moving parts, and is particularly compact that can be easily integrated into customers' own systems. It can be installed at the fender, door or front of the vehicle.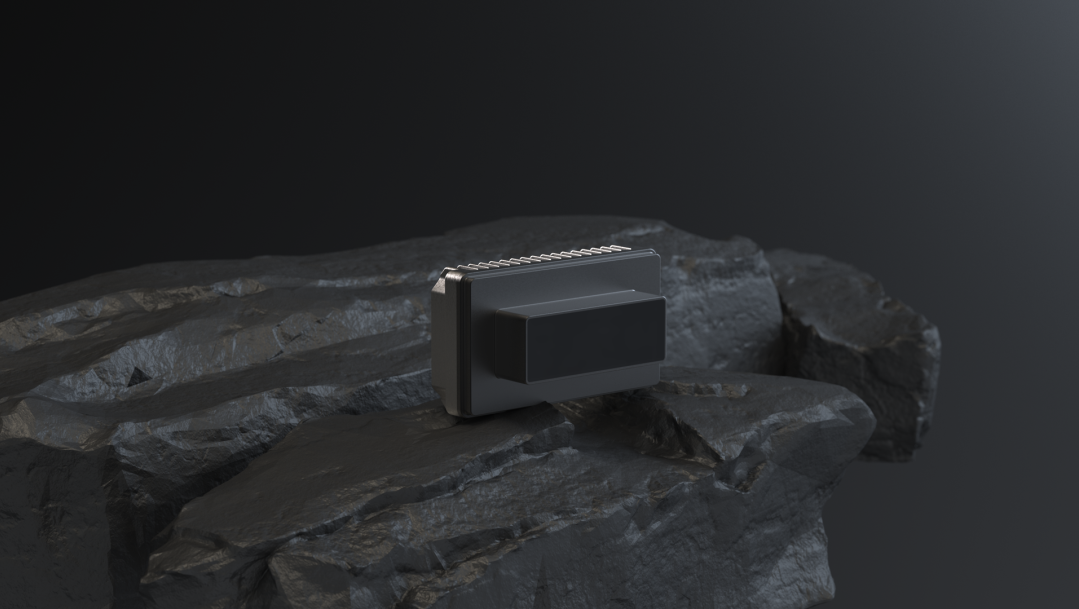 △ Candid Photo of E1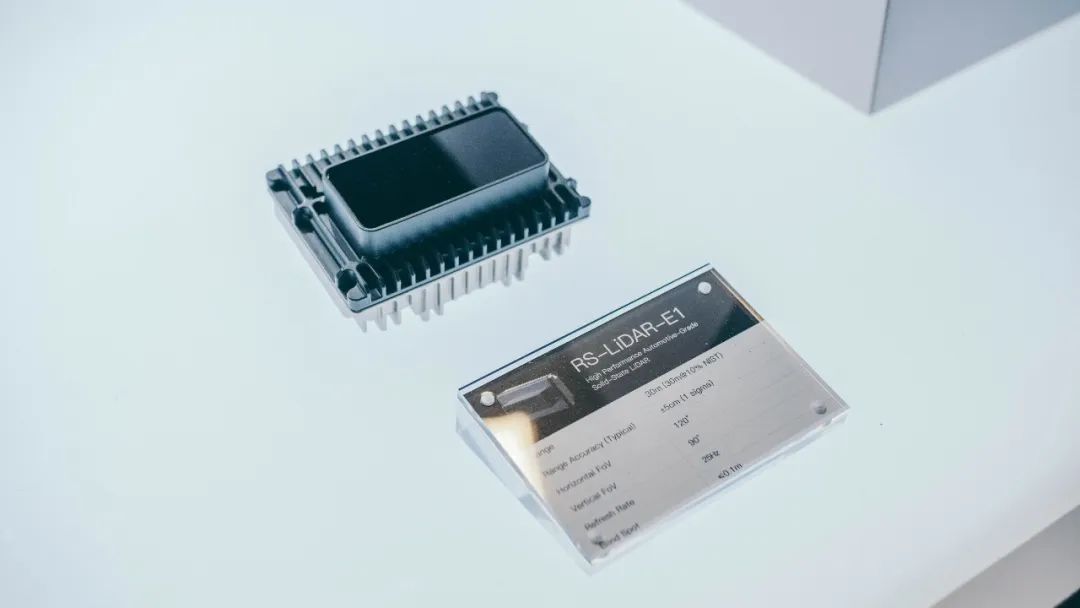 △ Staged Photo of E1
Note: How small and light is E1? Even better than visitors' guesses, the size is similar to a business card (A7)
E1 is equipped with RoboSense's first in-house developed chips designed for the solid-state LiDAR platform and 2D electronic scanning strategies. Chip level integration of transmission, reception and signal processing greatly simplifies product circuit design and production processes, and features utmost performance and cost advantages. E1 provides a 120°×90° ultra-wide FoV, supports over 25Hz ultra-high refresh rate, and has a ranging capability of 30m@10%. It is the most ideal LiDAR for intelligent vehicle systems to achieve zero blind area.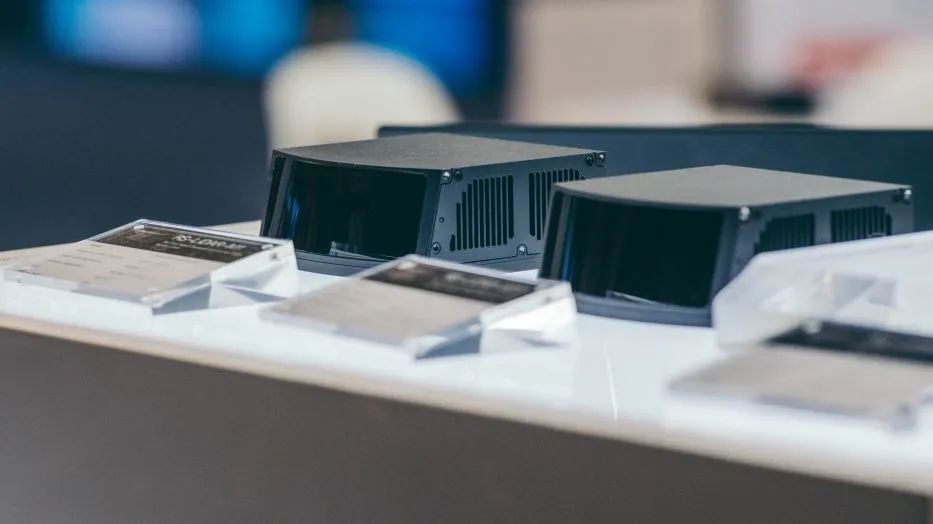 △ Picture of M Series Products at the Event
A number of new products of the RoboSense M series made their debut at the same time. The M series is based on RoboSense in-house developed 2D MEMS smart scanner chips and achieved the technological breakthrough of advancing from 1D mechanical scanning to 2D chip-based scanning. It features high performance, low cost, high reliability and high scalability, leading LiDAR products into the era of large-scale mass production. The M series is the only LiDAR product in the industry that can achieve continuous performance upgrades. Seamless iteration and upgrading can be achieved under the same size, installation specification, connector and protocol conditions, which caters to different needs of car company customers for dynamic upgrading of smart perception solutions.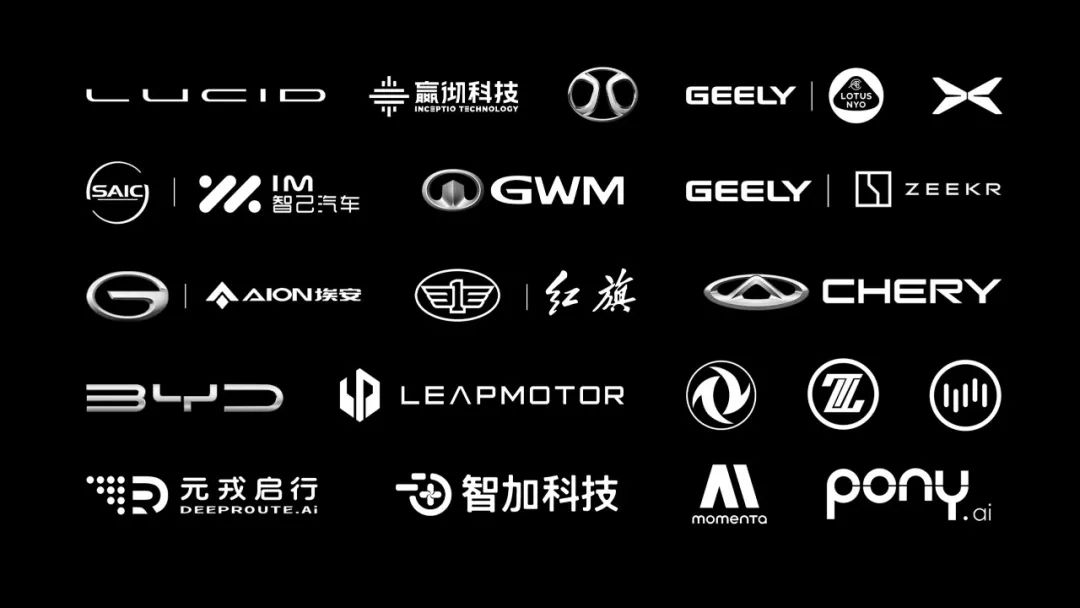 △ Logos of RoboSense Partners
In particular, RS-LiDAR-M1 (M1 for short), the first M series product has won the Innovation Awards at CES 2019 and CES 2020 for two consecutive times. It is by far the only second-generation smart solid-state LiDAR worldwide to achieve automotive-grade series production and delivery, and has won series production contracts from 10+ famous automotive brands including BYD, SAIC IM, FAW Hongqi, Chery, GWM, XPENG, Zeekr Intelligent Technology, Lotus Cars, GAC AION, WM Motor and Lucid. Among them, series production projects cover over 50 vehicle models including sedans, coupes, supercars, SUVs and heavy-duty trucks, and the forecasted order quantity is expected to exceed 10 million units.
△ Picture of R-Platform mechanical LiDARs and RS-Reference at the Event
A number of leading R-Platform mechanical LiDAR products were also exhibited at CES 2023, including the new generation 128-beam LiDAR RS-Ruby Plus, the high-precision near-field blind spot LiDAR RS-Bpearl and the new generation customized multi-beam LiDAR RS-Helios designed for commercial operations of L4 autonomous driving vehicles.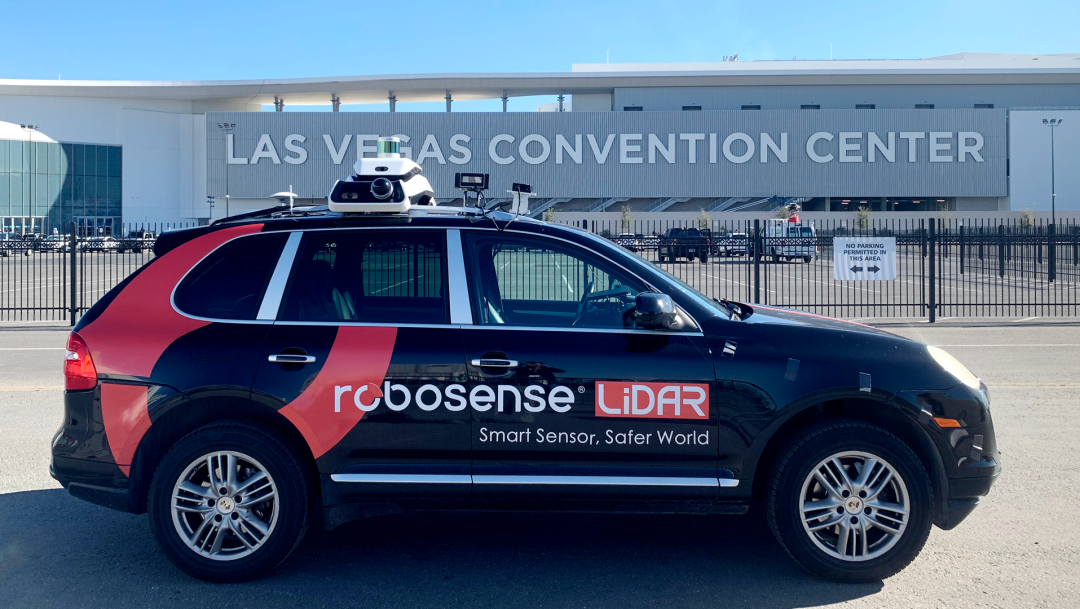 △ RoboSense Demo Car in the Exhibition Hall
RoboSense also placed in the exhibition hall a demo car which is equipped with RS-Reference, the ground truth generation and evaluation system designed for ADAS/AD perception systems. Visitors can get a close-up look at the acteristics and superior performance of the products. RS-Referenceintelligently generates massive accurate ground truth data, and automatically analyzes and evaluates each sensor, completely solving the high cost, low efficiency, high error rate, lack of evaluation tools and other problems in manual calibration.RS-Referencegreatly improves the development efficiency of intelligent vehicle projects and supports the rapid large-scale production and implementation of autonomous vehicle and ADAS applications.
From Verification to Intelligent Manufacturing - Continuous Promotion of Large-Scale Production and Application of LiDARs
Based on its ultimate pursuit of technological innovation of LiDAR products, RoboSense provides useful experience from tests and verification of product designs to the perfection and establishment of mass production systems, leading the industry towards transformative large-scale production upgrade, and continuously promoting the large-scale production and application of LiDARs.
RoboSense is committed to building a model lab for the LiDAR industry, one that of the largest scale and has the most complete equipment and facilities, the most mature testing systems, and the most advanced testing technologies in the world. And it is the only CNAS accredited professional LiDAR lab in the industry. Under the strict control of the RoboSense lab, the reliability of LiDAR products is guaranteed. In 2022, more than 10 models of RoboSense passed the automotive-grade reliability tests and entered the SOP mass production phase.
Watch the Video:RoboSense Laboratory
RoboSense has been escalating its investment in intelligent manufacturing. By building factories of its own as well as partnering with top manufacturers, RoboSense has established the largest intelligent manufacturing ecosystem with the highest level of automation, the most advanced manufacturing processes and the strictest quality management in the industry. RoboSense's Shenzhen-Guangzhou-Dongguan integrated intelligent manufacturing cluster, as an industry leading mass production system, has an expected annual production capacity of over one millions units with efficiency of "A LiDAR is manufactured every 12 seconds". The flexible production lines will guarantee the delivery for forecasted orders of over ten million units.
Watch the Video:RoboSense intelligent manufacturing system
With its world-leading LiDAR products and technical strengths, RoboSense has won recognition and support from customers across industries at CES 2023. At present, RoboSense's partners cover multiple major autonomous driving technology companies, automotive enterprises and Tier1 suppliers worldwide, and its product technologies are widely adopted in autonomous/assisted driving passenger vehicles & commercial vehicles, unmanned logistics robots, robotics, RoboTaxi, RoboTruck, RoboBus, new smart transportation infrastructure and other fields.
Watch the Video:RoboSense's Customer Interviews at CES 2023
From Customers to Applications-in-Depth Partnerships and Recognition Obtained in Multiple Fields Worldwide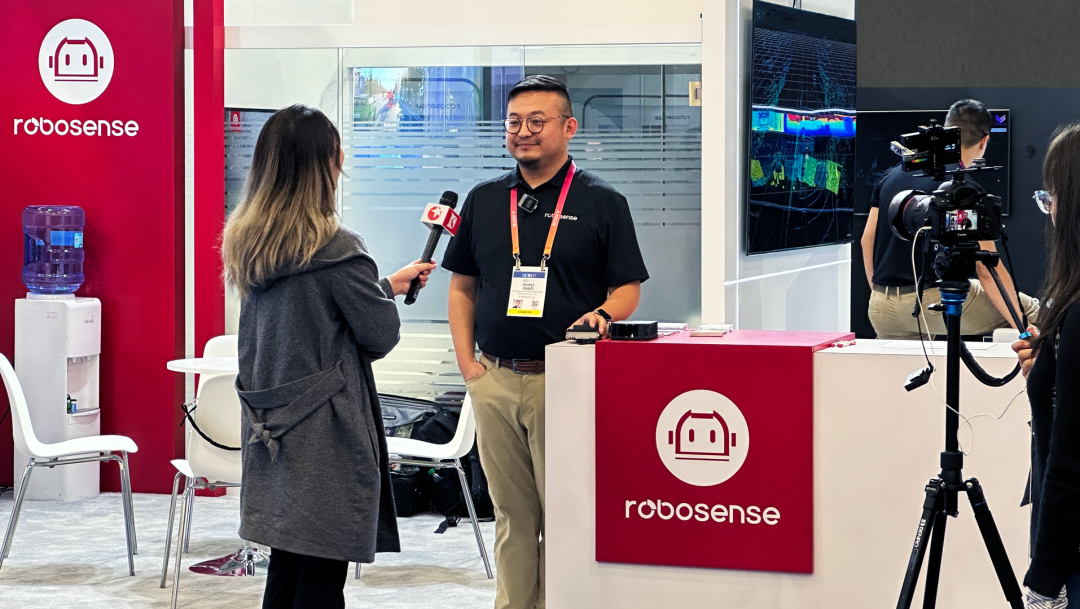 △ Media Interview
RoboSense has attended CES for seven consecutive years. In the past seven years, RoboSense has always been customer needs oriented and has been pursuing technological innovation and fixing technological bottlenecks. The company is committed to bringing star innovations to the global LiDAR industry.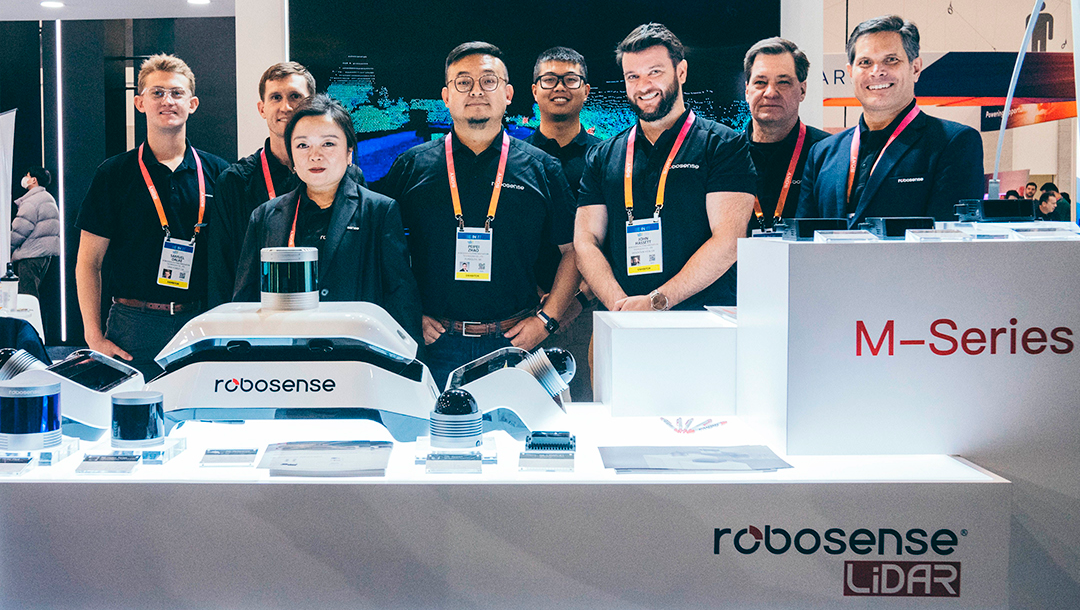 △ CES 2023 RoboSense Team
Based on ideal product designs, rigorous tests and verification and leading production systems, RoboSense will accelerate the automotive-grade series production and large-scale application of LiDARs in intelligent vehicles, empowering the automotive industry to become smarter and safer, and improving the global influence of Chinese LiDAR brands.
About RoboSense
Founded in 2014, RoboSense (Suteng Innovation Technology Co., Ltd.) is the leading LiDAR company of Smart LiDAR Sensor Systems incorporating LiDAR sensors, AI algorithms and IC chipsets, that transform conventional 3D LiDAR sensors to full data analysis and comprehension systems. The company's mission is to possess outstanding hardware and artificial intelligence capabilities to provide smart solutions that enable robots (including autonomous vehicles) to have perception capability more superior to humans.